Done by request: Batman!Karkat and Robin!Gamzee.

i just need to reblog this because YES GOD they have such a batman and robin dynamic and gamzee has all the required sads underneath the wonderful robin joyfulness and MY BLOOD COLOUR IS REEEEEED and they wouldn't actually fight people they'd just shoosh pap faygo pop them into submission and

basically this is perfect

IT IS PERFECT it never occurred to me that this is exactly why im attached to their relationship but it probably is, yall know how i feel about robins

its just!!! gamzee has exactly the effect on karkat that a robin should have on a batman. robin pulls batman out of his broody navel gazing just by being there and being bright and they balance each other and yeah thats how its supposed to work anyway and its lovely

also 

yes

[4:07:17 AM] pupa pals: "HE CAN'T DIE KANAYA OR I'LL" "What Youll Dress Up As A Giant Bat And Haunt The Night For The Rest Of Your Life"

you are good at this 
Yes.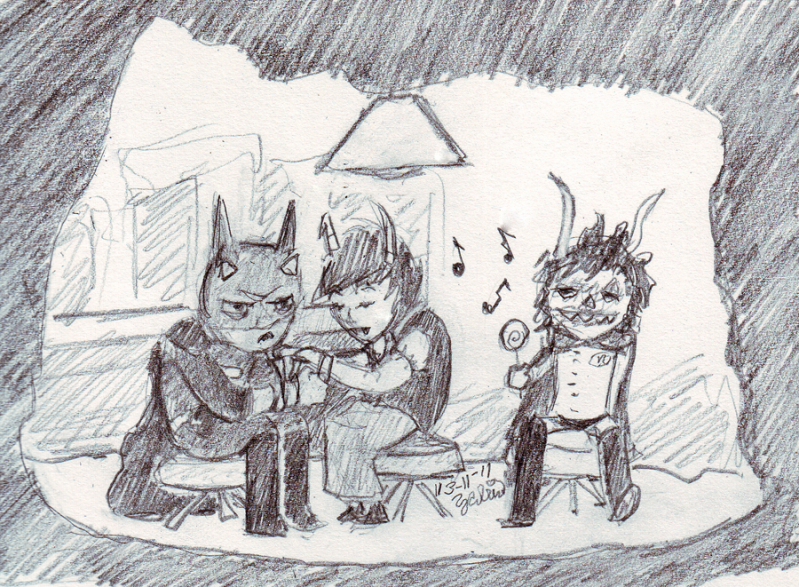 Kanaya IS Alfred.
Done by request: Batman!Karkat and Robin!Gamzee.
I can't handle all these cuties.
I wonder how this reflects on Karkat's character
Day 4 of the Homestuck 30 Challenge: What's your favorite page?

In case you suddenly want to go and see it, it's this one. [link] This scene gets me every time.
Day 3 of the Homestuck 30 Challenge: Who's your Patron Troll?

Looks like I get to draw him after all!

Me: Hey, Karkat, you know why you're in a bad mood? It's because you're feeling crabby!
Karkat: I swear to god if you say one more shitty joke like that my entire fucking head will explode from its sheer stupidity.