some random justice league unlimited sketches + a couple of homestucks thrown into the mix. i really like flash for some weird unknown reason.
Does anyone need a reason to like the Flash?
I'm sorry, I heard "Tavros" and "Death Metal" and then something happened that I don't remember.
sober gamzee for zombie walk

WHERE DO YOU LIVE
Pre-Scratch Trolls | Post Scratch Trolls | Ancestors

A sort of family portrait, if you would.

Art by B[閉]Y[鎖]A

I've been reblogging the solo ones; here's the whole pile!  Kudos to the artist!
The fucking world would be ending and they'd be like

OF ALL THE FUCKING FANDOMS IN THE WORLD TO ACTUALLY GET THEIR STORY TO BE REAL AND ACTUALLY GET TO LIVE IT IT FUCKING HAD TO BE THEM

I COULD BE IN A TARDIS OR AT HOGWARTS OR BE A MAGICAL GIRL AND MAKE A CONTRACT OR BE THE KEYBLADE MASTER OKAY I COULD FUCKING BE SAILOR MOON

BUT NO I'M DYING IN A METEOR APOCALYPSE BECAUSE OF ALL THE FANDOMS

IT HAD TO BE HOMESTUCK
y

I fixed my God Tier Rose costume a bit, so next weekend at Tracon I'll attempt a dangerous DOUBLE COSPLAY COMBO

Rose on Saturday and Jane on Sunday. Or possibly the other way around??

TUBBS GODDAMN you like jumped out of that sprite didn't you
the commission work continues!
Done by request: Batman!Karkat and Robin!Gamzee.

i just need to reblog this because YES GOD they have such a batman and robin dynamic and gamzee has all the required sads underneath the wonderful robin joyfulness and MY BLOOD COLOUR IS REEEEEED and they wouldn't actually fight people they'd just shoosh pap faygo pop them into submission and

basically this is perfect

IT IS PERFECT it never occurred to me that this is exactly why im attached to their relationship but it probably is, yall know how i feel about robins

its just!!! gamzee has exactly the effect on karkat that a robin should have on a batman. robin pulls batman out of his broody navel gazing just by being there and being bright and they balance each other and yeah thats how its supposed to work anyway and its lovely

also 

yes

[4:07:17 AM] pupa pals: "HE CAN'T DIE KANAYA OR I'LL" "What Youll Dress Up As A Giant Bat And Haunt The Night For The Rest Of Your Life"

you are good at this 
Yes.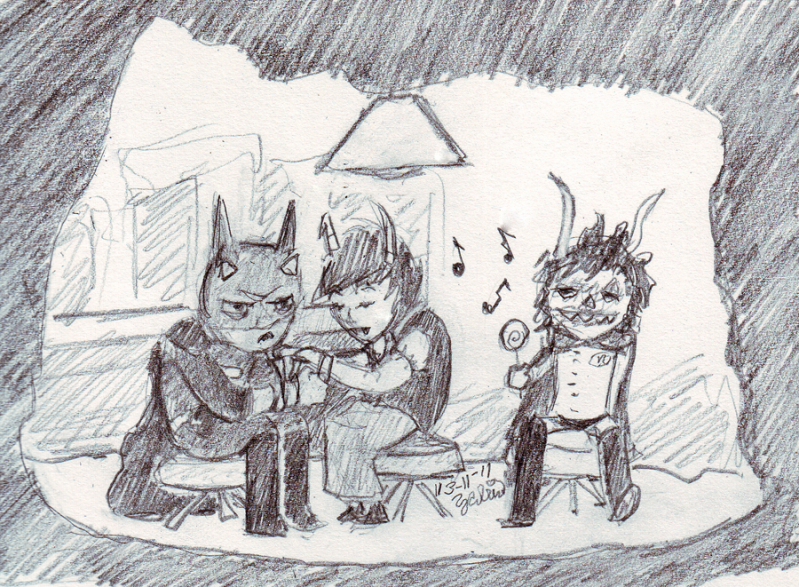 Kanaya IS Alfred.